Gandu & Gandu Circus
Director: Q. Starring: Anurbata Basu, Joyraj Bhattacharya, Rituparna Sen Run time: 89 mins | Recommended Certificate: 18 Language: Bengali with English subtitles | Year: 2010 | Country: India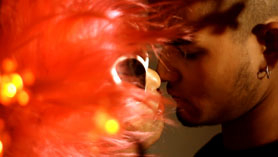 India's most radical director Q delivers a tour de force, which has excited festivals around the world. Twenty-year-old Gandu lives with his single mum in a dingy Kolkata flat. She has turned to sex work to make ends meet. His life revolves around the local internet café where he overdoses on videogames and porn until one day he bumps into Rickshaw, who introduces him to hard drugs and together they slide into a dark fantasy world where angry rap lyrics melt into visitations by the goddess Kali and an alien sex-kitten. Listen out for a stunning music track inspired by the UK's Asian Dub Foundation. The film contains some sexually explicit imagery so don't bring your mum!
GANDU CIRCUS with SUSHEELA RAMAN AT BFI
The London Indian Film Festival is delighted to announce that Mercury nominated musician Susheela Raman will perform alongside acclaimed filmmaker and rapper Q, in a unique first of its kind event that marries the heady vibe of the controversial film Gandu with a pulsating interactive concert. June 21 will see BFI Southbank reverberate to the strains of Raman and Q's band Gandu Circus along with special guest Steve Chandra Savale from the Asian Dub Foundation, following a screening of Gandu. The Arts Council of England supports the event.