Autograph
Director: Srijit Mukherji Starring: Prasenjit Chatterjee, Nandana Sen, Indraneil Sengupta. Run time: 132 mins | Recommended Certificate: 18 Language: Bengali | Year: 2010 | Country: India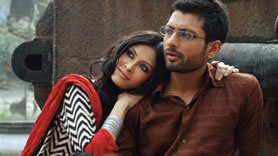 A hit film in Bengal, this is a tale of ambition and the corruptive nature of fame in the film industry. Shubhobroto (Sengupta) is a young writer/director with a vision to re-make the master filmmaker Satyajit Ray's classic film Nayak. He approaches the reigning superstar Arun Chatterjee (played by real-life super-hero Prasenjit Chatterjee) with the proposal.
Much to his surprise the movie-god agrees to fund the film and be its lead. Shubhobroto celebrates with his live-in girlfriend and budding actress Srinandita (Sen) and he drafts her in to play the film's female lead. As the production develops, the promise of fame makes Shubho increasingly arrogant as he slips into his own world.
Meanwhile Arun focuses his affections, on and off screen, on Srinandita and confides in her about his troubled past. The trio find themselves spiralling into a strange and yet poignant love triangle. With a talented ensemble cast and a compelling narrative, the film provides an insightful view into contemporary Kolkata society and a window into the inner workings of the Bengali film industry.