Ladli Laila (Virgin Goat)
Director: Murali Nair Starring: Raghubir Yadav, Shiela Naidu, Saurab Gharipurikar, Purnima Maudgil Run time: 87 mins | Recommended Certificate: 18 Language: Hindi | Year: 2009 | Country: India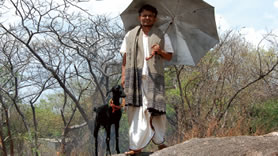 Murali Nair is one of India's most celebrated young directors, having won the prestigious Camera D'Or at Cannes for his first feature Marana Simhasanam (Throne of Death ), a surreal and hysterically funny commentary on local Indian politics.
His latest feature continues in the same vein. Raghubir Yadav, the doyen of Indian indie actors, plays Kalyan Singh, a farmer who is trying to eke out a living. Singh loves his pet she-goat Laila even more than he does his own family. Singh's ambition is that his pet will have a kid.
The search is on for a Billy Goat that needs to be found whilst Laila is still in heat. The announcement that a local bigwig is to visit town throws a spoke into Singh's mating plans for his beloved goat. Nair's satire takes numerous snipes at corruption in its myriad forms but in a hilarious and warm-hearted manner.