Delhi Belly
Director: Abhinay Deo Starring: Imran Khan, Vijay Raaz, Kunaal Roy Kapur. Run time: 145 mins | Recommended Certificate: 18 Language: Hindi with English | Year: 2011 | Country: India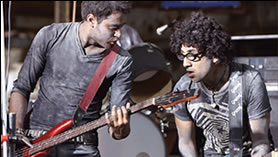 Aamir Khan's special welcome message at LIFF 2011 > 
Irreverent, crude and downright rude this fabulous new comedy caper from modern Mumbai cocks its hat at bad-boy cults like Snatch and The Hangover, with perhaps a little peppering of the Beatles.
Led by Tashi (played by the puppy dog-eyed, teen-heart throb Imran Khan), a dopey bundle of mates find themselves in a whole lot of trouble when they accidentally mix up a bag containing a stool sample (one of them ate the wrong Tandoori Chicken), with another bag which Tashi's trolley-dolly girlfriend has been asked to carry a bag full of smuggled diamonds!
All sh*t breaks out when the smugglers, led by a particularly nasty villain Cow Boy (played by Vijay Raaz, Monsoon Wedding), set off after them. It also gives Tashi a chance to consider whether he wants to settle down to a suburban marriage with his nice airhostess and Mummy and Daddy in-laws, or take a bite of the wild side. Expect rickshaw chases, upset stomachs and of course, a riot of mix-ups and chases, with unsuspecting English tourists ducking for cover.