Rang Rasiya (Colours of Passion)
Director: Ketan Mehta Starring: Randeep Hooda, Nandana Sen, Paresh Rawal, Ferena Wazeir. Run time: 129 mins | Recommended Certificate: 18 Language: Hindi, English | Year: 2008 | Country: India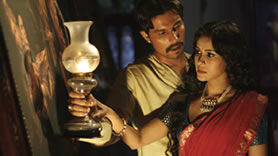 Both strikingly beautiful and audacious, Ketan Mehta's film charts the life of the great Indian artist Raja Ravi Varma (played by Randeep Hooda), from his early days under the patronage of a King of Kerala, moving on to British Bombay in the late 1800s, where he makes his fortune.
Here the genius gives birth to Indian modern art and helps inspire the independence movement and the dawning of Indian cinema with his depictions, which bring to life the Hindu gods and goddesses. He must first find his muse who comes in the lavish form of Sugandha (Nandana Sen). Varma's fascination for his model turns into a torrid, paint-smeared, love affair, which is reflected in his art. The religious power brokers see his increasingly eroticised work as dangerous and Varma is dragged to the British courts to be tried for blasphemy.
Mehta's homage offers not only a spectacular insight into a turning point in Indian history, but also questions the freedom of the artist in contemporary society. Not to be missed!