Farhan Akhtar | Screen Talk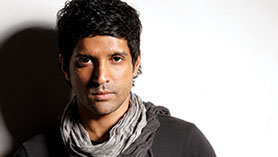 Farhan Akhtar is the renaissance man of Indian entertainment, being a director, producer, actor, singer, screenwriter, lyricist and television host. The son of legendary writer and lyricist Javed Akhtar and screenwriter, actor and director Honey Irani, Farhan made his directorial debut with Dil Chahta Hai, a film that changed filmmaking mores in Bollywood. He made his lyric writing debut with Bride and Prejudice and his acting and singing debut with Rock On!! His turn as the Olympian athlete Milkha Singh in the biopic Bhaag Milkha Bhaag has seen him win every major Indian acting award this year!
This engrossing Screen Talk interview was filmed at the BFI – actor, director and producer Farhan Akhtar talks about making his directorial debut with Dil Chatha Hai (2001), his acting debut in Rock On!! (2008) and working with Shah Rukh Khan in Don (2006). Akhtar also explains how his parents have affected his work.
BFI SOUTHBANK