A Girl in the River: The Price of Forgiveness
Director: Sharmeen Obaid Chinoy Starring: a rare survivor who falls in love and lives to tell the tale. Run time: 40 mins | Recommended Certificate: 12A Language: Punjabi with English subtitles | Year: 2015 | Country: Pakistan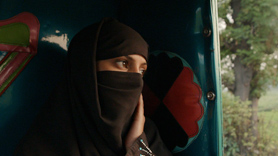 DOUBLE BILL FROM DOUBLE OSCAR WINNING DIRECTOR SHARMEEN OBAID-CHINOY
Based in Karachi, her documentaries capture key social issues and great moments of contemporary Pakistani culture.
A Girl in the River: The Price of Forgiveness is an honest and at times disturbing documentary about one young woman's journey. After narrowly surviving an attempted honour killing she must maintain the status quo in her village by making peace with her attempted murderers – her own family. Winner of the Best Short Documentary Oscar in 2016.
The Bagri Foundation supports documentary films as a powerful medium to raise social awareness.