Kanasemba Kudureyaneri (Riding the Stallion of a Dream)
Director: Girish Kasaravalli Starring: Vyjanath Biradar, Umashri, Sadashiv Brahmavar Run time: 109 mins | Recommended Certificate: 18 Language: Kannada | Year: 2010 | Country: India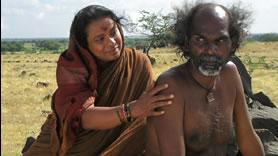 The latest feature from Girish Kasaravalli, one of the founding fathers of India's parallel cinema movement, is also his most unconventional, employing for the first time in his long and distinguished career a non-linear, fragmented narrative.
This delightful evocation of pastoral life in the southern Indian state of Karnataka follows a couple, Irya and Rudri, who are desperately poor but extremely happy. Irya is the butt of village jokes, as he is a professional gravedigger, and sits around waiting for people to die while the hardworking Rudri barely makes ends meet by working on a farm.
Their lives are thrown into turmoil when Irya dreams of the village headman's death and the appearance of nomad Siddha, who will ensure the passage of souls direct to heaven if his arrival coincides with the time of death. Kasaravalli masterfully weaves together a jigsaw of a narrative that is deeply satisfying.
The film won India's National Film Awards for Best Screenplay and Best Film Feature Film in Kannada.