Meet the Patels | European Premiere
Director: Geeta Patel, Ravi Patel Starring: The Patel family. Run time: 88 mins | Recommended Certificate: 12A Language: English | Year: 2014 | Country: USA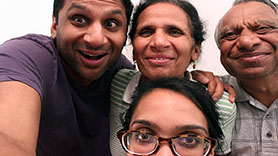 "Sharp" and "riotously funny." – Variety.
Since its 2014 world premiere, Meet the Patels has won audience awards at festivals including Hot Docs Film Festival, the Los Angeles Film Festival, and Traverse City Film Festival, and it has had a chain of sold-out screenings, making Meet the Patels the sleeper hit of the 2014-15 festival circuit. The Hollywood Reporter recently named it an Oscar contender for Best Documentary.
A wry and witty, spoof comedy doc. about the perils of meeting the girl of your dreams, but don't worry, your parents are there to set you right and find the perfect wife. American Pie, commitment shy Ravi is making his eccentric Gujarati parents quite jittery. He is nearly 30 and un-married – why? The pressure is applied and after being mentally beaten for months Ravi finally gives up and agrees to traditional matchmaking. Delighted Mom and Pop go into overdrive sending him on a global quest to find the Mrs Patel of his dreams. All seems hopeful, until his secret, ex-girlfriend Audrey reappears.