Satyajit Ray Short Film Competition 2011
Director: Various Starring: Various Run time: 95 mins | Recommended Certificate: 12A Language: Various, with English subtitles | Year: | Country: India/UK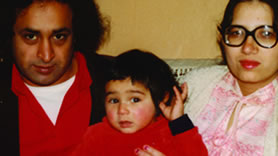 2011 WINNER: AMAR 
LIFF has once again teamed up with the Satyajit Ray Foundation to present its prestigious Satyajit Ray Foundation Competition. The final short-list has been selected and will previewed at a free screening at the Nehru Centre on 4 July at 18.30pm.
PLEASE SEE BELOW FOR THE 2012 SHORTLISTED FILMS:
AMAR
Director: Andrew Hinton | Country: UK
All great achievements require time. Amar is 14 and top of his class. Someday he'd like to be a professional cricketer but for now he's the family's main breadwinner. An observational documentary which leads us through Amar's daily routine.
THE TALKING WALLS OF LAHORE
Director: Numra Siddiqui | Country: UK
Graffiti is everywhere in Pakistan's cultural heartland. Words consume the city's visible spaces, from herbal practitioners advertising impotency cures to political and religious slogans. In a country battling economic and political instability, these 'wall chalkings' form a rich amalgamation of contradictory messages. The act of writing becomes emancipation, defying forces that attempt to bind individual expression.
MY LAD
Director: Sami Khan | Country: UK
Abdul has been hiding out in his launderette for days, unable to deal with the world outside. Despite pleas from his brother, Abdul is determined to run from the one thing he has to accept. Fate.
BOXING LADIES
Director: Anusha Nanakumar | Country: India
Zainab, Bushra and Sughra are three spirited, teenage sisters living in a small slum in Kolkata. They are also national level boxers. As the girls dream of rising above their living conditions, the film challenges the stereotype of young Muslim women.
ZAROORAT (DESPERATION)
Director: George Mangalath Thomas | Country: India
Asif, a street hawker, is confronted by a simple need – he must earn some money; just enough to buy some food. Which has it's own complications – particularly when confronted with a corrupt local policeman and the corporation bulldozers poised to demolish his home…
VITTHAL
Director: Vinoo Choliparambil | Country: India
Vitthal is angry, very angry. Following the death of his grandfather, according to Hindu death rituals, his parents have shaved off his hair. For 12 year old Vitthal, his world is shattered.
HOME
Director: Krish Shrikumar | Country: UK
The man's memories of home have become more vivid with time. This is the story of his journey back to a place only he knows he can return to… A short meditation on 'Home' as a place far beyond the imagination.