Veettilekkulla Vazhi (The Way Home)
Director: Dr. Biju Kumar Starring: Prtithviraj, Indrajith, Govardhan. Run time: 95 mins | Recommended Certificate: 18 Language: Malayalam | Year: 2011 | Country: India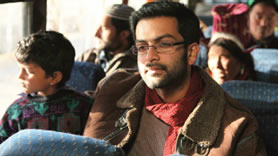 Malayalam cinema's young heartthrob Prithviraj plays a Delhi-based prison doctor who accedes to the dying wish of his patient, a member of a terrorist squad. Her wish is that he unites her five-year-old son with his father whom he has never seen. The trouble is that the father is the leader of a dreaded Indian Jihadi terrorist group.
The doctor collects the boy from the southern state of Kerala and begins an arduous pan-Indian journey to track down the elusive terrorist. The doctor's quest is all the more poignant and noble because his own wife and child were killed in a terrorist attack.
Alongside breathtaking imagery showcasing India's natural beauty from the lush backwaters of Kerala to the arid zones of Rajasthan and the stunning grandeur of the Himalayas, the film is also a sensitive look at the touchy issue of terrorism and its impact.
Winner of National film award for the best Malayalam Film.