That Girl in Yellow Boots
Director: Anurag Kashyap Starring: Kalki Koechlin, Naseeruddin Shah, Gulshan Devaiya Run time: 107 mins | Recommended Certificate: 18 Language: Hindi | Year: 2010 | Country: India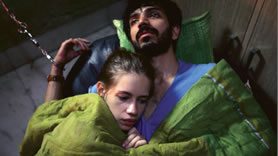 Mumbai's leading independent filmmaker Anurag Kashyap pushes the envelope in narrating the tale of Ruth, of mixed British/Indian parentage, who comes to Mumbai in search of her absent father.
Ruth is soon caught up in the seamier side of Mumbai, where a potent mix of gangsters, massage parlours providing 'happy endings', drug dealers and ashram dwellers collide. Kashyap captures the authentic Mumbai, shooting solely at real locations, eschewing the ersatz sets Bollywood is known for and crafts a cutting edge exploration of Mumbai's underbelly.
Kalki Koechlin delivers the performance of her life as the bruised, vulnerable, yet mentally strong Ruth and is ably supported by revered veteran Naseeruddin Shah.
Followed by Q&A with Director Anurag Kashyap at BFI Southbank.