Woman with a Movie Camera: A Life Less Ordinary | South Asian Filmmaker's Debate
Starring:
Sharmeen Obaid-Chinoy, Leena Yadav, Shefali Bhushan and Rinku Kalsy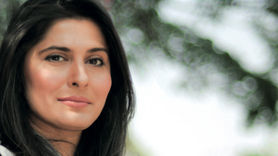 This year's Bagri Foundation London Film Festival has aggregated some of the best South Asian films. We are delighted that many of these happen to be by leading women filmmakers. We present a rare opportunity to hear filmmakers like double Oscar winner Pakistan's Sharmeen Obaid-Chinoy, Mumbai's multi-award winning Leena Yadav, documentary filmmaker Rinku Kalsy and other special guests talk about their unique careers and experiences and explore commonalities of experience with women filmmakers around the world. Chaired by Nasreen Munni Kabir, a documentary filmmaker who has made over 80 documentaries including the Inner/Outer World of Shah Rukh Khan and who has been curating the Indian films on Channel 4 for over 30 years.
The Debate is preceded by a screening of Sharmeen Obaid-Chinoy's 2016 Oscar winning short A Girl in the River: The Price of Forgiveness (40 mins) Pakistan.