Aarekti Premer Golpo (Just Another Love Story)
Director: Kaushik Ganguly Starring: Rituparno Ghosh, Chapal Bhaduri, Indraneil Sengupta, Raima Sen Run time: 104 mins | Recommended Certificate: 18 Language: Bengali | Year: 2010 | Country: India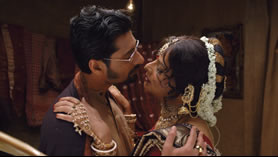 Acclaimed Bengali director Rituparno Ghosh switches sides of the camera to act in Kaushik Ganguly's film, which un-ashamedly shakes the foundations of contemporary Indian sexuality.
Abhiroop (Ghosh) is an openly gay filmmaker from Delhi intrigued by the story of 70 plus Bengali performer Chapal Bhaduri, famous for playing roles as a woman. Abhiroop lures him with money to reveal his tragic true-life story. As film shooting starts, we are taken on an extraordinary journey between past and present, where transgender Bhadhuri's tortured love for a bisexual man is echoed by Abhiroop's own affair with his handsome cameraman Basu.
As word gets out about the filmmaker's disregard for social taboos, the media start to bite with homophobic vengeance, divided loyalties emerge and Basu must also decide between Abhiroop and his suffering wife.
Ganguly deftly plays out a rainbow of emotional nuances, while Ghosh gives a mesmerising and emotionally charged performance.