Shukno Lanka (Dry Red Chillies)
Director: Gaurav Pandey Starring: Mithun Chakraborty, Sabyasachi Chakraborty Run time: 110 mins | Recommended Certificate: 18 Language: Hindi | Year: 2010 | Country: India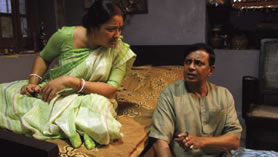 It may be a surprise to some that actor Mithun Chakraborty, Bollywood's original Disco Dancer, is also a fine performer with some serious acting chops, having won the coveted Best Actor gong at India's National Film Awards twice and Best Supporting Actor once. Here, he plays a veteran, bit-part actor Chinu Nandy, in the commercial Bengali film industry (aka Tollywood).
Nandy has resigned himself to lesser roles in the shadows of younger and less talented heroes, but gets the shock of his life when an award-winning director Joy Sundar Sen (Sabyasachi) decides to cast him as the lead in his next big film. Nandy feels distinctly uncomfortable with his return to the spotlight, but supported by his wife, musters his energy for his greatest performance.
This well scripted tale manages the triple feats of humorously skewering Tollywood practices, lampooning pretentious art-house filmmakers, but above all celebrating the pleasures of a happy marriage and growing old with your partner. This is a film that will leave you with a tear in your eye and a smile on your lips.