Memories in March
Director: Sanjoy Nag Starring: Deepti Naval, Rituparno Ghosh, Raima Sen Run time: 104 mins | Recommended Certificate: 18 Language: Hindi/English/Bengali | Year: 2010 | Country: India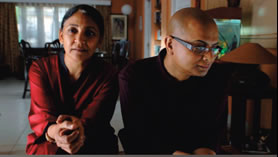 Intimate and riveting, debutant director Sanjoy Nag presents a delicate tale of unlikely friendship forged through tragedy. Award-winning Actor Deepti Naval plays Arati, a grieving woman who travels to Kolkata on hearing the news of her advertising executive son Siddharth's fatal car accident.
She is let into his flat by his friend and work colleague Sahana (Raima Sen), who Aarti suspects to be his girlfriend but, sorting through her son's things and hearing fragments of half spoken conversations, bring Arati to the realisation that she didn't really know her son at all. The constant presence of her son's boss Arnob (Rituparno Ghosh) and his reluctance to part with Siddharth's personal belongings makes Arati wonder.
Soon, she reaches the shocking revelation that Arnob was Siddharth's lover. Awkwardly the two must, for their own salvation, move forward together. With a wonderfully written script by Ghosh and charged character performances by a great cast this is a must see.