Dug Dug
Director: Ritwik Pareek Starring: Altaf Khan, Gaurav Soni, Yogendra Singh Run time: 107 mins | Recommended Certificate: 12A Language: Hindi with English subtitles | Year: India | Country: 2021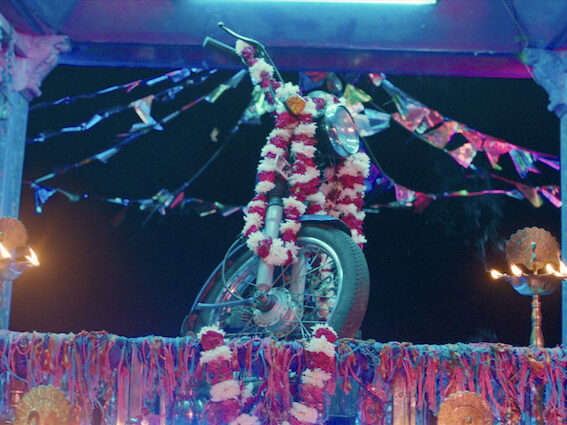 Strand: EXTRA-ORDINARY LIVES
Ritwik Pareeks striking and infectiously funny satire explores the roots of faith and the commercialisation of religion. After a freak accident kills an alcoholic middle aged man named Thakur, the Dug-Dug brand motorcycle he is riding is taken away from the scene and locked up at a nearby police station. The following morning, the bike mysteriously appears back at the site of the crash. It is once again taken away by baffled police but once again the next day returns to the scene of the accident. Word of this strange occurance spreads through the village leading the locals to believe they are witnessing divinity and the work of a higher power at play.
Q&A with Ritwik Pareek
Director
Ritwik Pareek
Ritwik Pareek is a film-maker, writer and an illustrator based in Mumbai. Being born and raised in the heritage city of Jaipur, India, he always loved folktales. He has a way
with words while retelling the stories he has heard and always strives to make his characters more intimate. He loves illustrating, has a knack for aesthetics and appreciates art in all its forms. He started his career in advertising as an art director at one of the finest ad agencies in the world, Ogilvy and Mather, and has worked on several international award winning ad campaigns. After a year, he left the agency to pursue his career as a film-maker.
Ritwik has a strong drive for visual storytelling and loves visual poetry that leaves a strong emotional impact on the audience. He worships IMAX screens. He believes in
creating his own detailed world in movies and wants to explore all the film genres. He wants to create a harmony, a melody of art and music in his films and believes in showing a strong perspective in movies. He aspires to make a film like Roma one day wherein he wants to be his own cinematographer. He also wants to have a cutting edge special effects studio of his own like the Weta workshop.
Film Screenings
European Premiere
London | Barbican
June 28, 2022 5:50 pm

Q&A with special guest
Buy Ticket