Shonajhurir Bhoot (Ghost of the Golden Groves)
Director: Aniket Dutta & Roshni Sen Starring: Joyraj Bhattacharjee, Soumyajit Majumder, Debleena Sen, Bidyut Das Run time: 98 mins | Recommended Certificate: 15 Language: Bengali with English subtitles | Year: 2019 | Country: India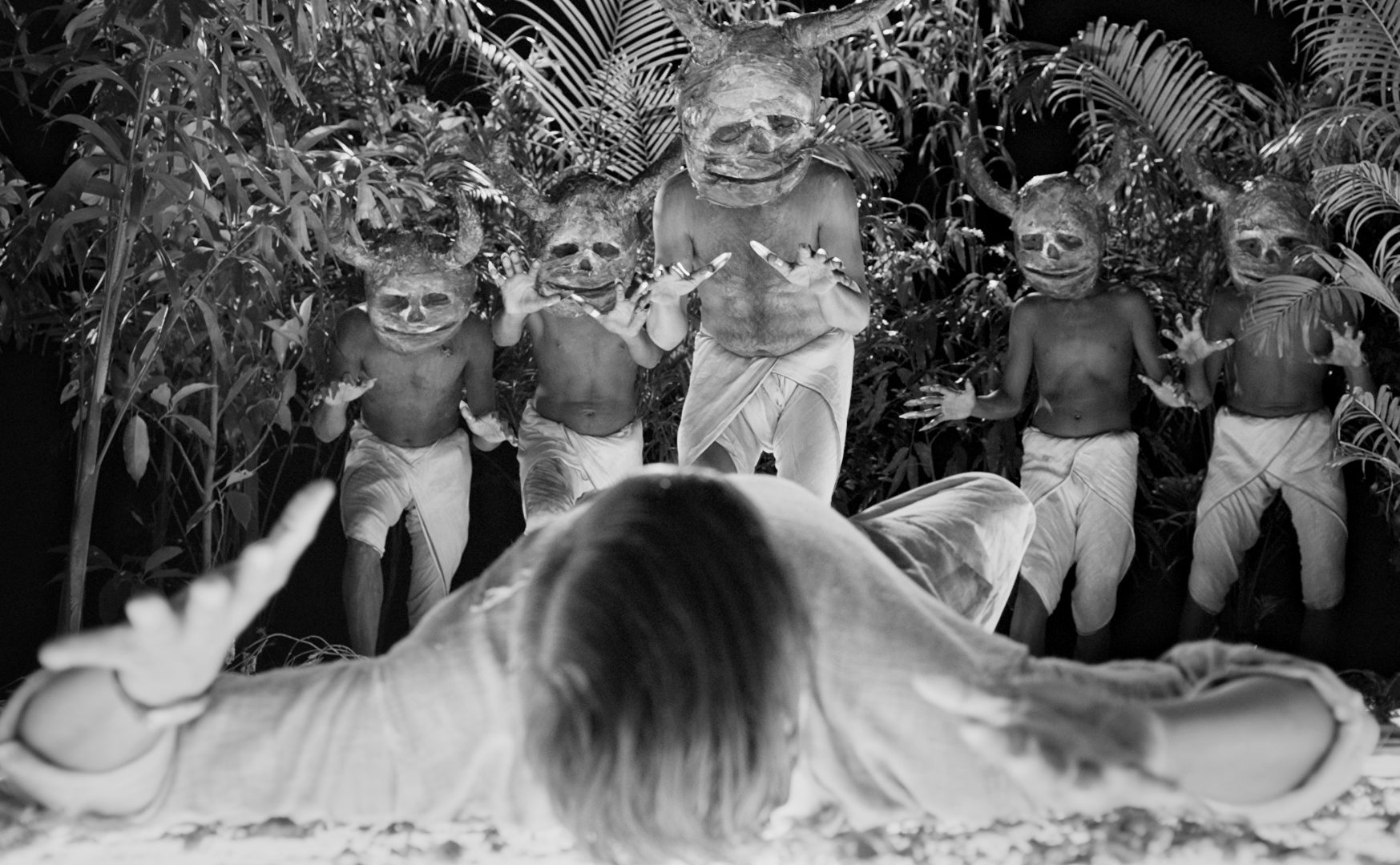 Strand: BENGAL TIGERS
Surreal and unnerving, debutants Dutt and Sen deliver a fresh hybrid style to the scifi genre. In the first tale of this delightful diptych strange nocturnal incidents begin to occur to a government officer from Kolkata visiting the Shonajhuri forest area – eerie lights, anonymous voices, sinister wailing and a random encounter with a polymorph, all draw him deep into the treacherous web of the golden groves. In the second, based on a story by Bibutibhushan Bandyopadhyay (Pather Panchali), a poor cook gets the caretaker's job at an abandoned house in the same forest and must deal with "the others". Equal parts homage to Japanese New Wave horror like Onibaba and Woman In The Dunes, and the cinema of Satyajit Ray and Mrinal Sen, the film is breathtakingly original.
Please remember there are no adverts before festival screenings so we encourage you to arrive in good time.
Director
Aniket Dutta & Roshni Sen
Aniket Dutta
Aniket is a filmmaker/singer/songwriter/graphic designer and visual artist based out of Calcutta, India. He's a nephew of notable Indian composer/music director Salil Chowdhury, whose presence in the family gave him the first exposure to film and music. He started music from an early age and his synthpop/indietronica moniker Oh,Rocket has been featured on various platforms including C-HEADS magazine/ ROLLINGSTONE etc. Being a multidisciplinary artist committed to music, visual art and poetry, cinema seemed to be the obvious choice
to explore his diverse passions. Influenced by the likes of Teshigahara, Maya Deren, Tsukamoto, Franz Kafka, Md Ali, Apichatpong, Kubrick,
Hanna-Barbera, Van Gogh, Sukumar Ray, Dali, Jodorowsky, Jan Svankmajer and different folktales of the world, Aniket wants to create a new kind of cinema that is explorative of the contemporary dystopian time which he feels is not only limited to the science fiction world but also spills over into our current socio political system.
Roshni Sen
Roshni is a producer based out of Kolkata who has worked on several regional, commercial films such as Bhooter Bhobishyot, the national award winning Bakita Byaktigata and national films like Sonata. Roshni has been an ardent follower of the Theatre of the Absurd and an avid film buff since her adolescence. Over the years she has developed a fondness for/been deeply inspired by an array of directors ranging from Stanley Kubrick, Andrei Tarkovsky, Wener Herzog, Maya Deren, Ingmar Bergman, Luis Bunuel, Bela Tarr,Takashi Miike, Mrinal Sen, David Lynch, Jim Jarmusch, Abbas Kiarostami, Apichatpong Weerasethakul and Adam Curtis to name a few. Coming from a background in Liberal Arts with a focus in Sociology, she has always considered Cinema to be an extremely powerful tool for historically and culturally exploring various social archetypes as well as for retaining or recreating the status quo.After gaining experience as a producer (although she didn't creatively connect with the films she worked on, learning about independent film financing and film production was invaluable), she wanted to create meaningful (personally as well as form a sociological standpoint) cinema that would not only dissect the culture and history of a given time and place, but that of cinema at large.
They directed their debut feature film Ghost of the Golden Groves as Harun-Al-Rashid .The latter is a character from the legendary Arabian Nights who always remains in disguise - the two chose this as their directorial moniker to be a simple teller of stories at the same time create an aura of mystery also reflected in their films.
Film Screenings
International Premiere
London | Stratford Picturehouse
June 22, 2019 8:00 pm
Buy Ticket
London | Cineworld Leicester Square
June 28, 2019 8:00 pm
Buy Ticket